About Us
Paprika Indian Restaurant is a Indian takeaway in Hitchin. Why don't you try our Mirshi Masala or Chicken Omelette & Chips?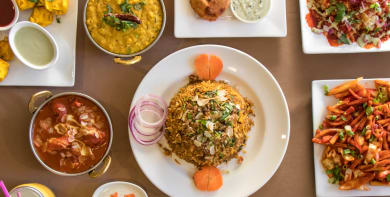 Reviews
180 reviews
Lash
"Paprika are the BEST!"
03/07/2021
Natalie
"Absolutely DELICIOUS as ALWAYS"
27/06/2021
Carla
"Absolutely spot on as always, lovey food and delivered on time. Love this restaurant!"
25/06/2021
Pete
"Again great food delivered early - excellent!!"
16/06/2021
Menu
Nazakat
Tandoori chicken skewered & grilled delicately spiced & succulent, a must have
£4.75
Jhinga Garlic
King prawns with garlic sauce & grilled in a tandoori oven
£6.50
Pancake Kebab
Pancake stuffed with delicious spicy lamb
£4.50
Khadom Phall
Minced lamb covered with spicy mash potatoes coated with sesame seeds & then deep fried
£3.95
Paprika Special Mixed
Nazakat, pancake kebab & khadom phool
£5.50
Tandoori Chicken Starter
On the bone
£3.50
Fish Tikka
With fried onions & peppers
£4.50
House Platter (For Two Persons)
Combination of onion bhaji, samosa, seekh kebab & tikka
£9.95
Machly Kazana
Fish & king prawns
£13.95
Tandoori Chicken Main Half
£7.95
Tandoori Chicken Main Whole
£13.50
Shashlik Chicken
Grilled with tomatoes, green peppers & onions
£8.95
Shashlik Lamb
Grilled with tomatoes, green peppers & onions
£8.95
Tandoori Mixed Grill
Served with naan
£11.95
Lamb Chops (5)
Marinated in yoghurt, rosemary, black pepper, lemon, mint, ginger & garlic
£9.95
Duck Shashlik
Tender pieces of duck marinated in garlic & delicate spices, grilled with capsicum, tomatoes & onions
£11.95
Salmon Bhaja
Pan fried, lightly spiced salmon cooked with onions and peppers, served with a side salad
£12.95
Paprika Special
Chef's own recipe
£11.95
Tikka Masala Chicken
Diced pieces cooked in a mild sauce made with a delicate blend of aromatic spices & herbs, ghee, cream & almonds
£8.95
Tikka Masala Lamb
Diced pieces cooked in a mild sauce made with a delicate blend of aromatic spices & herbs, ghee, cream & almonds
£8.95
Tikka Bhuna Chicken
Medium to hot.
Roasted in the tandoori oven with onions, fresh tomatoes, coriander & a selection of herbs & spices
£8.50
Tikka Bhuna Lamb
Medium to hot.
Roasted in the tandoori oven with onions, fresh tomatoes, coriander & a selection of herbs & spices
£8.50
Tikka Korai Chicken
Prepared in an iron wok & flavoured with chopped tomatoes, onion & capsicum in a special blend of mild herbs
£8.95
Tikka Korai Lamb
Prepared in an iron wok & flavoured with chopped tomatoes, onion & capsicum in a special blend of mild herbs
£8.95
Tikka Pasanda Chicken
Mild.
Tender pieces of roasted cooked in fresh cream, ghee, cultured yoghurt & ground almonds
£8.95
Tikka Pasanda Lamb
Mild.
Tender pieces of roasted cooked in fresh cream, ghee, cultured yoghurt & ground almonds
£8.95
Butter Chicken
Mild
Barbecued pieces in delicate butter sauce with mixed nuts & cream
£8.95
Butter Lamb
Mild
Barbecued pieces in delicate butter sauce with mixed nuts & cream
£8.95
Chicken Nawabi
Breast of chicken stuffed with minced meat & cooked with mild sauce
£10.50
Jolpie Chicken
Medium spicy sauce, cooked with olives & garlic
£8.50
Jolpie Lamb
Medium spicy sauce, cooked with olives & garlic
£8.50
Tawa Chicken
Tender slices stir fried with green peppers & onions in a medium bhuna sauce
£8.95
Tawa Lamb
Tender slices stir fried with green peppers & onions in a medium bhuna sauce
£8.95
Tatul Chicken
Sliced pieces cooked in a spicy sauce flavoured with tamarind
£8.95
Tatul Lamb
Sliced pieces cooked in a spicy sauce flavoured with tamarind
£8.95
Rajshahi Chicken
Original Rajshahi dish
Fresh cooked with pickled mangoes, tomatoes, coriander herbs & spices, served with fried red chillies with a succulent smokey flavour
£8.95
Rajshahi Lamb
Original Rajshahi dish
Fresh cooked with pickled mangoes, tomatoes, coriander herbs & spices, served with fried red chillies with a succulent smokey flavour
£8.95
Suhagi Chicken
Tender cubes cooked with green peppers, shallots, lemongrass & fenugreek
£9.95
Suhagi Lamb
Tender cubes cooked with green peppers, shallots, lemongrass & fenugreek
£9.95
Tikka Sagwala Chicken
Medium hot. Marinated in a variety of spices then cooked with spinach
£8.95
Tikka Sagwala Lamb
Medium hot. Marinated in a variety of spices then cooked with spinach
£8.95
Chicken Tikka Cheesy
Medium hot. Grilled chicken marinated in special herbs & spices, cooked in a thick sauce with cheese
£8.95
Murgh Paharia
Green chicken curry, strips of chicken with aubergine, fresh beans, fresh broccoli coconut milk & ground spices
£8.95
Lamb Sikandari
Shank of lamb marinated in the chef's secret recipe for hours then cooked in a sauce with chickpeas
£11.95
Yakeema
Chicken & minced meat in medium sauce
£8.95
Sylhetey Mixed Masala
Mixed of chicken & lamb, spicy hot curry, top secret recipe
£9.95
Tandoori Mixed Grill Masala
Chicken tikka, lamb tikka, seekh kebab & tandoori chicken pieces in a mild sauce with aromatic herbs & spices
£11.95
Tandoori Mixed Grill Bhuna
£11.95
Shashlik Masala Chicken
Medium
£9.50
Shashlik Masala Lamb
Medium
£9.50
Naga Bhuna Chicken
Hot Bengali peppers
£8.95
Naga Bhuna Lamb
Hot Bengali peppers
£8.95
Annans Haash
Succulent roasted breast of duck, cooked in aromatic spices, pineapple & cherry tomatoes a fairly hot dish
£9.95
Seafood Bhuna
An infusion of scallops squid & tiger prawns in our speciality marinated bhuna spices
£10.95
Sylhety Fish
Thick sauce with medium spice
£9.95
Fish Jalfrezi
A fairly hot dish with a thick sauce of peppers, onions, green chillies & coriander
£9.95
Tandoori King Prawn Masala
Capturing the exquisite flavour of king prawn, roasted in a tandoori oven & cooked in mild masala sauce with ground almonds & cream
£13.95
King Prawn Jale Jule
King prawns marinated & barbecued, then cooked with onions, fresh chillies & peppers. Hot & spicy
£12.95
Garlic King Prawn
King prawns prepared with a generous amount of garlic & stir fried with medium spicy sauce
£12.95
Chingri Sag Paneer
King prawns with spinach & Bengali cheese & a hint of garlic
£12.95
Cox Bazaar Crab
Crab cooked in a medium spiced bhuna
£11.95
Despite Salmon
Medium spiced salmon cooked in an onion and tomato based sauce with peppers
£10.95
Vegan Bazar Hot
A choice of Mild, Medium or Hot Vegan special
£7.95
Vegan Bazar Medium
A choice of Mild, Medium or Hot Vegan special
£7.95
Vegan Bazar Mild
A choice of Mild, Medium or Hot Vegan special
£7.95
Dhaka Murgh
Originates from Dhaka
Breast of fresh chicken stuffed with mince lamb with mashed potatoes & spinach & garnished with fresh coriander & tomatoes & glazed with honey, this is a medium dish
£10.95
Khala Lamb Bhuna
Original Punjab dish
Cubes of New Zealand lamb slowly cooked with fenugreek, green peppers & tomatoes, this dish is cooked slowly to bring out the smokey aroma
£9.95
Mirshi Masala Chicken
Original Ryhpur dish
Cooked with tamarind, green chillies & curry leaves. A hot tangy dish with roasted dry chillies
£9.95
Mirshi Masala Lamb
Original Ryhpur dish
Cooked with tamarind, green chillies & curry leaves. A hot tangy dish with roasted dry chillies
£9.95
King Prawn Sizzler
King prawns in a tomato puree based sauce, little spicy, tangy for that very special taste
£12.95
Tikka Rezala Chicken
Fine slices of spring cooked in a spicy sauced cooked with onions & green peppers
£8.95
Tikka Rezala Lamb
Fine slices of spring cooked in a spicy sauced cooked with onions & green peppers
£8.95
North Indian Garlic Chilli Chicken
A fantastic spicy curry, very hot with green chillies, garlic & coriander
£8.95
North Indian Garlic Chilli Lamb
A fantastic spicy curry, very hot with green chillies, garlic & coriander
£8.95
Tikka Lahori Chicken
Spicy pieces of cooked in tandoori then freshly re-cooked with cubes of potato in a thick tomato puree based sauce
£8.95
Tikka Lahori Lamb
Spicy pieces of cooked in tandoori then freshly re-cooked with cubes of potato in a thick tomato puree based sauce
£8.95
Balti Chicken Tikka Masala
£11.50
Vegetable Korma
A very mild dish with cream, coconut & almonds, creating a rich creamy, velvety textured sauce
£6.95
Vegetable Dansak
A Persian speciality, fairly hot, sweet & sour with lentil sauce
£6.95
Vegetable Jalfrezi
A fairly hot dish with a thick sauce of peppers, onions, green chillies & fresh coriander
£6.95
Vegetable Masala
A selection of vegetables in a mild aromatic herb & spice sauce
£6.95
Vegetable Curry
Mixed vegetables
£3.95
Bombay Aloo
Spicy cumin flavoured potatoes
£3.95
Saag Paneer
Spinach & cheese
£3.95
Saag Aloo
Spinach & potato
£3.95
Tarka Daal
Lentils & fried garlic
£3.95
Aloo Gobi
Potatoes & cauliflower
£3.95
Mattar Paneer
Chickpeas & cheese
£3.95
Saag Mushroom
Spinach & mushrooms
£3.95
Aloo Mushroom
Potato & mushrooms
£3.95
Aloo Chana
Potatoes & chickpeas
£3.95
Raita Cucumber
With yoghurt
£2.95
Chutney & Pickles Lime Pickle
Each
£0.80
Chutney & Pickles Mango Chutney
Each
£0.80
Chutney & Pickles Mint Sauce
Each
£0.80
Chutney & Pickles Onion Salad
Each
£0.80
Contact Us
Find Us
27 Nightingale Road, Hitchin, SG51QU
We deliver to
SG4, SG5, SG6